There was a time when hotel owners were divided in their opinion on whether Airbnb is competition to hotels and whether it affects hotel rates or not. With hindsight, Airbnb is not only a growing business that has just received a bullish rating by global investment firm AB Bernstein for how it 'uniquely inspires' customers, but it also hosts hotels on its platform. Perhaps the question never should have been about competition, but about distribution.
In this blog post, we explore how Airbnb as a distribution partner to hotels is different, what Airbnb competitors are out there and what alternatives hoteliers might want to consider in order to diversify their reach using channel managers.
What are the benefits of listing your hotel on Airbnb?
In its early days around 2007, Airbnb appeared to be positioned in a niche for budget-conscious travellers, who did not mind sharing their accommodation with their hosts. Over time, however, listings of whole units or properties soared and the site began to dominate the short-term rental space, where the competition had some catching up to do in their online presence. As recently as 2016 STR measured the impact of Airbnb on hotels by impact on ADR during special events; for example, during the Boston Marathon hotel rates grew 5% year over year when unit supply on Airbnb had grown by 76%. For hotels that looked beyond rate impacts, there was a trend to catch that meant strategically listing some of their hotel room inventory on Airbnb.
Due to its longer average length of stay and diverse global customer base that is looking for more home-like accommodations, hotels are able to leverage Airbnb for distribution: simply by positioning larger or multi-bedroom room types, perhaps with kitchens or other amenities, to an audience that may previously not have landed on their own website. Say hello to digital nomads or travellers who also work. Many hotels even manage to convert these bookings on their own website, since price comparisons are part of guests' research and their booking process.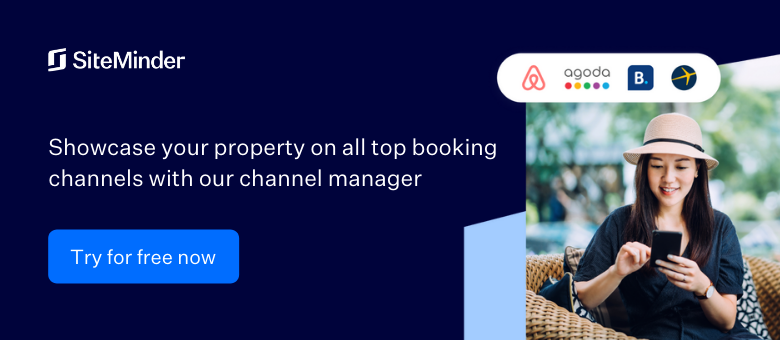 How does Airbnb compare to the alternatives?
One piece of the puzzle that is often overlooked is just how Airbnb has been able to dominate the short-term rental space. The answer is rooted in what makes Airbnb different from incumbents in short-term rental, that were there before Airbnb entered the market, and also how Airbnb competitors differentiate themselves.
Before Airbnb, the short-term rental space was not technologically savvy: clunky websites have since been upgraded and virtually any platform now has an app to compete with Airbnb. However, where short-term rental platforms previously targeted mainly leisure travellers and families or were indeed specialised in corporate rentals, Airbnb manages to bridge the gap and attract all of those travellers to its platform, for whichever reason they travelled. By adding experiences to their booking options, Airbnb increased its influence on the guests' entire stay. Quite simply, before Airbnb hotels did not consider listing their inventory on short-term rental platforms: they expected the consumer to make a decision about whether they wanted a hotel or a rental before going to search for precisely that.
When Airbnb introduced category-based search in 2022 it did not just differentiate itself from other short-term rental providers but asked the entire travel segment to update the way it inspires people to travel and research their trips. Suppose you are listing your hotel on Airbnb and you are in a beachfront location. In that case, you can now be found by anyone searching for a 'beachfront' holiday—not just people who specifically searched your location, region, or country.
Who are Airbnb's competitors, and how are they different?
The broad reach across market segments is attractive when listing a room on Airbnb, and it is what you have to keep in mind when you research the best Airbnb alternatives: most of them are specialised in their own unique ways. Some of these competitors include providers that do not list hotel inventory.
Sonder, Blueground and Vacasa all provide short-term rentals that are managed through their own teams; this means that they either lease or own their own properties. For guests, this can be an attractive level of added security and an opportunity to create the differentiating trust that their booking will not be cancelled.
Homestay sets itself apart by always having a host present (just like in the early days of Airbnb) and having them add value to the guest's stay through their help in settling into local life. 9flats has a similar focus on renting and staying in someone else's apartment.
The Plum Guide specialises in stays at unique venues as a type of luxury Airbnb alternative, and states to only allow a tiny percentage of applicants onto its room supply.
Evolve and specialised providers such as Snaptrip and cottages.com only list true holiday rentals or privately owned spaces.
While the above companies compete with Airbnb, they are no alternative for hotels looking to list their inventory for expanded distribution.
Best Airbnb alternatives for independent hotels
As an independent hotel looking to diversify distribution, it is important to understand the purpose of individual booking platforms you consider listing on. This is not only about managing the time you spend setting up and managing the relationship, but about being seen in the right places and attracting the right types of customers. Any Airbnb competitor analysis for hotels should primarily distinguish between providers that list hotels and those that do not.
A quick search on alternatives to Airbnb will likely land you many guest-facing results that include platforms your hotel is already listed on. These include booking.com, Expedia and Agoda who now all provide short-term rental listings in addition to hotel listings. It serves as a signal of where the industry is headed. Through their affiliate networks, your hotel's reach may already be extended; for example, if you have an Expedia Affiliate Network agreement in place, your hotel may already be listed on HomeAway or Vrbo. Both rank high in guest-facing lists of alternatives to Airbnb.
For the purpose of this post, we explore alternatives for hotels to list their rooms alongside non-hotel inventory, with specific focus on regional differences and differentiating factors.
Global Airbnb alternatives
Hopper
If you're keen to attract millennial and Gen Z travellers to your hotel, Hopper Hotels is the type of global platform to be seen on. By listing your rooms here, you are in good company with 2 million other listings. Hopper Hotels is accessible exclusively via an app and the company has recently added Hopper Homes, meaning that its customer base is exploring a wide variety of travel solutions, including flights. Expect this audience to be price sensitive, since Hopper sends alerts to customers about price drops on their travel watch list.
HomeAway and Vrbo
HomeAway and Vrbo are both part of the Expedia group and welcome hotel listings alongside their diverse range of short-term rentals, including private homes and apartments. By listing your hotel on Vrbo, it will automatically be distributed on HomeAway, too.
TripAdvisor, Flipkey, HolidayLettings and HouseTrip
TripAdvisor offers rental options including hotels, private homes, apartments and more; through its acquisitions of companies such as Flipkey, HolidayLettings and HouseTrip it also pools some inventory and provides additional distribution.
Regional Airbnb alternatives
USA
Alternatives to Airbnb in the USA exist in the long-term rental space and are created by market conditions: American Federal Government Employees are restricted from using Airbnb and other 3rd party booking sites for official travel. This directly impacts their ability to be reimbursed for their stay. Atease (operating on pcsatease.com) is approved for Federal Government Employees and provides an alternative to Airbnb for long-term rentals: it is primarily used for temporary housing of families that are permanently changing location. Hotels in the US with long-term stay facilities, such as kitchens and multiple bedrooms or apartment-style accommodations, might consider applying to list their inventory here and attract stays of multiple weeks.
France
LeBonCoin is one of the largest players in the French holiday rental market and supported hotels early in the pandemic by making listings temporarily free. It is focused on distributing inventory within France to a French-speaking audience, and through an agreement distributes hotels under the Accor umbrella alongside its other inventory.
Asia
Rakuten LIFULL STAY (operating on vacation-stay.com) is one of the largest holiday rental sites in Japan. Operating under a membership model, it counts more than 100 million users. Rakuten also operates its Travel Exchange API, meaning that it does distribute its inventory of hotels and other accommodations through other parties. With its brand recognition strongest in Asia, the guest source market is Asia, but the platform does provide listings in more than 200 countries.
Latin America
To tap into Latin-American guests travelling worldwide, consider listing your hotel on Despegar, which has expanded its accommodation offering across hostels, cottages, and apartments. Despegar is known as Decolar in Brazil and also lets customers book flights and car rentals as part of a full travel solution.
Managing Airbnb alternatives with a channel manager
Increasing your distribution as a hotel is a great way to be seen and booked. With increased distribution comes the responsibility of managing your content, availability and rates fairly and in parity: it is, among other things, how you ensure that travellers will not find a cheaper rate elsewhere.
Manually managing connections with third parties is prone to data errors and quickly takes up valuable time that you should be spending on interactions with your guests. A channel manager is the simple solution that prevents overbookings from happening by managing your inventory and distributing the same information across all platforms, as well as your property management system, in real-time.
As you expand your third-party partnerships and make your hotel bookable in more locations, make sure you have an easy-to-access solution from where to manage your rates, availability, and content across all platforms with confidence and ease.