Leisure travel and "order-in" dining are very different markets, but as end to the COVID-19 pandemic appears to be in sight, Airbnb and DoorDash are looking to expand by issuing IPOs.
The IPOs for both companies hit the market as the Labor Department announced that a seasonally adjusted figure of 853,000 Americans filed for unemployment last week for the first time, the largest number since mid-September. Current jobless claims rose to 5.8 million, the first rise in those figures since late August. Overall unemployment declined slightly in October to 6.7%.
But Airbnb and DoorDash are betting on better times ahead.
DoorDash, a food delivery service, rode that trend to a strong IPO Wednesday after state officials closed restaurants last spring as part of the effort to curb spread of COVID-19, forcing an increasing number of people to eat meals at home.
"The pandemic-fueled rally in DoorDash is here to stay and is likely to continue beyond the coronavirus virus era," Manish Shah, CEO of Miami Beach-based Tollbooth Strategy told Newsweek.
"However, the company will face increasing backlash from restaurants over its pricing," Shah said. "There is widespread belief in the restaurant industry that the delivery services are, in effect, taxes and not a source of additional revenue."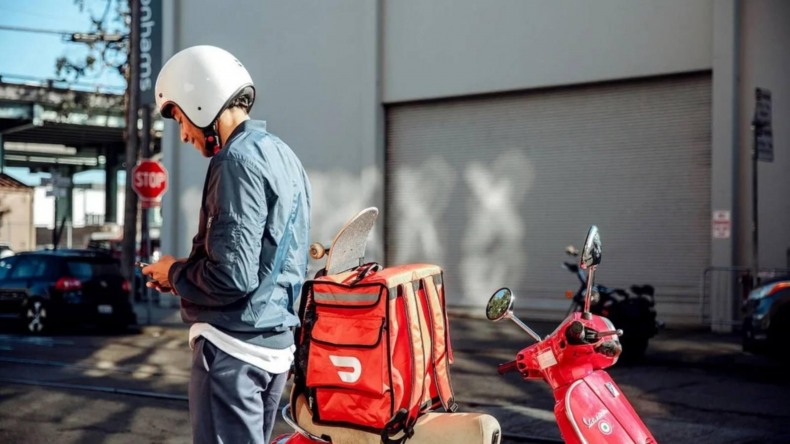 There are few barriers to entry in the home delivery market. Therefore, size and reach are likely to be key elements in a company's future success. San Francisco-based DoorDash, the industry's largest company with nearly a 50% market share, competes with Uber Eats, GrubHub and small, local services. Consolidation is already underway.
Earlier this year, after failing to acquire GrubHub, Uber Eats agreed to buy food delivery company Postmates in a deal valued at about $2.65 billion. Just Eat Takeaway snapped up GrubHub for $7.3 billion.
Home delivery fees can range from 10% to 30% of the order price, and the home delivery industry may soon face stiff competition from new and potentially more efficient challengers.
"In the future, DoorDash and others will face growing competition from emerging cloud kitchens," Shah said. "A ghost kitchen can set up its own delivery service through the logistics arm of the complex to avoid DoorDash's hefty service fee."
A cloud kitchen, sometimes called a ghost kitchen, serves only the delivery market and offers no dine-in services.
It can be set up anywhere, including a warehouse on the wrong side of the tracks, and therefore avoid expensive commercial rents in upscale areas traditional restaurants need to attract well-heeled walk-in customers.
A cloud kitchen also avoids the cost of a wait staff, fancy tablecloths, furniture and the need to wash the dishes after each meal. If necessary, a ghost kitchen can set up its own delivery service to avoid DoorDash's or a competitor's hefty service fee.
Also, there's nothing to prevent a cloud kitchen from preparing different types of food throughout the day to serve various demographic groups and markets–a huge advantage over traditional restaurants offering takeout service.
Smartphone ordering apps provide key information to cloud kitchen operators who could, for example, prepare Eggs Benedict in the morning, sandwiches at midday and pizza or chicken wings for students at night while offering Italian or French dinners to the faculty.
Customer orders could be tracked, allowing cloud kitchen owners to spot trends. This could permit more efficient ordering of supplies and less food wastage, boosting profit.
In short, the flexibility of a cloud kitchen could allow entrepreneurial foodies to concentrate on cooking while avoiding the problems and expense of running a brick-and-mortar restaurant, including DoorDash's delivery fees.
Lower overhead could allow startups to turn a profit more quickly and that could lead to higher quality offerings and wider menu selections, attracting more customers and further plumping the bottom line.
Targeted marketing and low overhead worked for Amazon, which has taken market share from traditional retailers in just about every market sector, and it might work for cloud kitchens competing with traditional restaurants, including those offering takeout services.
Cloud kitchens could go head-to-head with fast food giants such as McDonald's, Burger King and Domino's.
If so, ghost kitchens will compete by offering a better product and the convenience of home delivery. The bet: Many customers will be willing to pay a premium for quality and convenience.
A free and dynamic economy routinely challenges existing business models. Traditional bookstores, for example, have been clobbered. The food delivery industry may be the next to be challenged, despite DoorDash's strong IPO.
"Many cloud kitchens will launch IPOs," Shah said. "Most will be by real estate operators with logistical support."
But the cloud kitchen industry is still developing and so far there are no IPOs in the sector expected to come to market soon.
There may be some melding of business models in the future, and there's nothing to prevent DoorDash or other home delivery companies from setting up their own cloud kitchens and providing end-to-end service, Shah said.
This would pressure weaker ghost kitchens and DoorDash's financial strength and strong brand name would allow it to expand aggressively if it wanted to enter the cloud kitchen sector.
For now, there is strong investor interest in DoorDash's food delivery services as evidenced by the pricing of its IPO. Investors are betting on steady future growth.
DoorDash filed with the U.S. Securities and Exchange Commission to go public at $75 to $85 a share and last week increased the range to $90 to $95 before pricing 33 million shares at $102 each as investor demand for shares soared.
The stock opened Wednesday at $182, climbed to $195.50 and closed at $189.51 a share, a gain of 89.79% from the offer price. It was trading at $174.57 on Thursday afternoon.
Investors are betting the inverse of the forces driving DoorDash will benefit at least a sliver of the vacation market. Airbnb, the San Francisco-based online vacation rental marketplace, opened its IPO Thursday at $146 per share – more than double the $68 per share price that it had set on Wednesday.
Airbnb took a hit as the economy shut down earlier this year and unemployment rose. Losses widened, but revenue continues to rebound. However, like the airline and cruise ship industries, full recovery in leisure travel is likely to be slower than many had hoped.
Even with effective COVID-19 vaccines developed by Pfizer, Moderna and others, it's unclear how quickly large numbers of people will want to resume travel–especially discretionary trips.
Some may be concerned about how often Airbnb rentals are cleaned by independent owners in different cities and countries. Despite what's likely to be pent-up demand for getaway travel, this issue could dampen the company's growth in the immediate future.
It's unclear when museums, restaurants, ballparks and other tourist attractions will re-open. In New York, Broadway draws many tourists. But it's anyone's guess when the theaters will re-open, driving up demand–and the price–of short-term home rentals.
Long term, Airbnb's business model may be stronger than DoorDash's because it appears to be less vulnerable to competition by an innovative upstart. The vacation rental marketplace's IPO will be strong, but not as hot as DoorDash's debut.
Most IPOs aren't buy-and-hold stocks. Typically, IPOs peak in early trading and then decline. Savvy investors move quickly in and out of most new issues, pocketing a profit and returning to the stock after it has matured and the company has established a solid track record.
Keep an eye on the volume of shares traded in the weeks after DoorDash and Airbnb, two promising companies, launch their IPOs.
Share volume on the first day is often a good indication of a new issue's strength. If more than 50% of the shares are flipped, or re-sold on the first day of trading, it's a negative signal suggesting the company doesn't have a long-term investor base. That didn't happen with DoorDash's IPO.